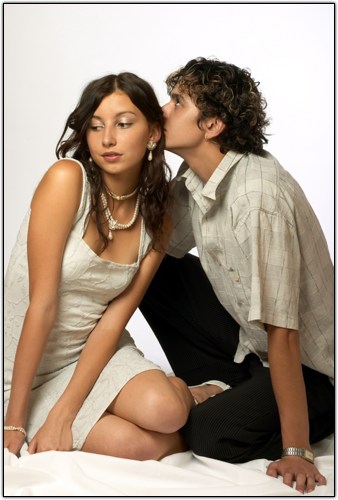 Yes girls here are 10 things a woman should know about men
1. There are two types of man, the honorable and the dishonorable man.
You must never get married until you learn to tell the differences. Your life is trashed if you choose to be with a man who has no integrity.
2. Good men need to be treated like good man. And dishonorable males are meant to be left alone.
We should adore and share responsibility with our good man and do stroke their ego sometimes, respect their man hood. They are such treasure who will never turn back once you loss them. Please cherish him!
3. He wants or is demanding sex and you are not his girlfriend or his wife. (Talks lustily with you)
There is no need to contemplate or wonder. He does not honor or respect you.
4. Some man like to use his strength against woman.
It gives them a sense of control and power. If you choose to be with such an abusive man, be sure to be his punching bag and door mat. Remember! "Zero" Tolerances.
5. Promiscuous immoral woman are not worthy of an honorable man.
They never were and never will be.
6. If you choose to be with the dishonorable male.
You have no rights to whine or cry if you choose to hang on to those uncouth barbaric bastard men who manipulate, threaten, lie and undermine you. They torch your emotions, abuse you, and leave you pregnant and alone. Jeopardize your safety and otherwise harm or hurt you. Please indulge and enjoy every bit of the shit you chose and shut up. Don't torment your friends with your complaint! You have the power to choose. You asked for it!
7. Everyone has excess baggage
Wrong! Throw the skeleton out of your closet and don't let it handicap you further. Be fair to your partner; don't judge every man because of one stupid man's action.
8. Dishonorable man treats sex as a de-stress sport, you as a trophy and your child a by-product.
If he doesn't care about the kids, treat you like a sex slave and he doesn't mind his friends' sleazing or bad-mouth you. Leave Him.
9. Men who have limited blood flow between his brain and his stick.
It doesn't matter if you are the hottest thing in town; he would still sleep around and give you a disease or two. You know, he's the type to cheat that's how you got him from his first wife/ex gf.
10. By sticking around him and killing off other competitor, He's going to marry me some day!
You wondering, if i move in with him, is he going to marry me?" Answer: "Not Likely". Doubt me? Please answer these questions. A) If you are a guy, would you marry the woman who is desperate for you or you find her a hindrance/spare typre? B) Examine the ever growing list of disillusioned woman who are waiting for their non committal live in lover to marry them?
If you liked this post please buy me a cup of coffee to quench my thirst